---
Engine Parts
---
Replacement Pistons 447 Big Bore Kits Rings Valves Valve Seals Cam Chains Cam Chain Guide
SEALS & GASKETS

Racer's 145mm Long Rod Kit

Piston/ ring/wrist pin package is 11 grams lighter than a stock 650. Pistons are sized at 79.99mm, to allow for potential honing of existing cylinders. Reduced headland for more power and better emissions, allowed by a truly complimentary squish band. A true 10:1 is achieved. Modern ring package has 1mm top and 1.2mm 2nd ring, with a 2mm 3 piece oil ring. Connecting rod is 145mm c-c, achieving a 1.96:1 rod/stroke ratio, moving the torque peak up in the power band, smoothing the short rodís explosive midrange, increasing traction and peak power. Small end is bushed with premium C630 aluminum bronze and has 10% more area. Big end bearing has 3.5mm rollers for less skating at high speed. Available as piston kits/rod kits only, or with sleeves, or with fitted Big Fin cylinder. ALL CLEARANCES MUST BE CHECKED! NOT BOLT IN!
Piston/rod kits only #JCEN11-1000................. $800.00
Kit with sleeves #JCEN11-1005...................... $1000.00
.Kit fitted to your cylinder #JCEN11-1012....... $1350.00
Racer's Deep Sump Extension Kit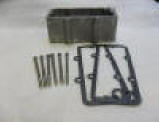 This is a serious performance modification. It is 2 3/4' deep, lowering the oil level to free the flywheels and primary gears from oil drag. Since the flywheel and primary gear are not immersed in oil, there is less drag and better dyno numbers and lower oil temps. The extension is cast for better heat dissipation than ones made of billet. The kit consists of the extension, two sump gaskets and 6 stainless steel bolts. Side stand lug removal may be required on stock frames
.Deep Sump Kit. #MCEN40-2750..... $135.00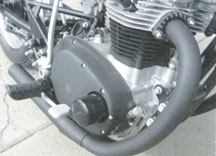 SPIN-ON OIL FILTER CONVERSION
Will it make your XS engine last forever?
This replaces the filter screen in the side cover with a modern, disposable filter, available in chrome and black. It projects about 2", giving a burly, modified look. Everyone will know you love your XS enough to give it a supply of clean oil. Side cover must be removed and 2 holes drilled and 2 holes filled with J-B Weld. Kit includes: Adapter and gasket, hardware, and 620 Loctite.
4 filters available: black or chrome, with (K&N) or without safety wire---$7.49 to $16.50
Replacement filters: Fram PH6017 K&N KN303 EMGO M82230 Vesrah VSF4005
HON 15410-MM9-013 KAW 16097-1063 YAM 3FV13440-00
Oil filter installation instructions
Spin-on Kit #MCEN13-44100...........$94.95
Emgo black filter #MCS86-4164 ..... $7.49
Emgo chrome filter #MCS86-4168 .... $8.85
K&N black filter #MCS55-6004 ..... $14.95
K&N chrome filter #MCS55-6030 ..... $16.50
*****************************************

Oil Filter/Cooler Kit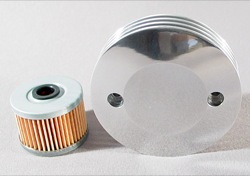 No modifications are required to install this kit, which uses a common Honda filter. Housing is finned aluminum billet.
*****************************************
750cc BIG BORE KITS




Fits motors with 447 connecting rods (1974 and newer engines) .
We offer 2 bore sizes for these engines.
Each kit includes (2) of the 9.2:1 compression Wiseco brand
pistons that are good for pump gas.
(2) Sets of Piston Rings, Piston Pins and Clips.
(2) cylinder sleeves and a special Big Bore head & base gasket.
CYLINDER BORING AND SLEEVING REQUIRED
80mm, 744cc Kit #JCEN10-7500 ..... $550.00
81mm, 752cc Kit #JCEN10-7501 ..... $580.00
Sleeve installation is available for $350.00 plus
shipping, call or E-mail before shipping your cylinders.
Composite Big Bore Head Gaskets

650 Central ...043" ....KCEN11-18150... $60.00
XS Performance .060" KMXS18-0750... $45.25
Big Bore Head & Base Gasket Set



Composite head and base gasket set for our 750 Big Bore kits.
Now, set your piston-to-head height for maximum performance. Available in .026", .032", and ,042". 81.5mm bore
Our composite Big Bore gasket is .043" and the XS Performance composite is .060" (1.5mm)
Need something special? CALL ME Sold each.
.026" KCEN11-18226... $48.00
.032" KCEN11-18232... $48.00
.042" KCEN11-18242... $48.00
Sold each. Our Big Bore base gasket is .020"
.010" Copper #KCEN11-35110... $22.95
.020" Fiber #KCEN11-35120...... $13.95
.031" Fiber #KCEN11-35131....... $13.95 -- stuff removed here... --
Hi-Performance Valve Spring Kit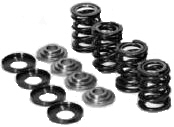 These springs are good for cams with up to .450" lift. Top retainers are 7075 T-6 Aluminum.
Fit all XSs '72-84.
# JCEN28-28600...... $145.00
Replacement Oversize Pistons



These fit the 447 engines produced from 1974 - 1984.
Each brand new piston comes complete with
Piston Pin and Pin Retaining Clips. Made in Japan
to exacting dimensional specifications for replacement pistons.
Available in 1st (0.25mm), 2nd (0.50mm), 3rd (0.75mm), & 4th (1.00mm) oversize.
They are sold each, so order 2 for each engine.
Order rings below
Piston Rings
Quality piston rings, standard thru 1.00mm oversize bore size. ONLY for the late model, 447 motors, 1974 -1984.
STD sets ONLY feature upgraded combination compression/oil scraper 2nd ring. Sold PER PISTON, order 2 sets
Standard Size 256 Piston Rings
Quality 256 piston rings, featuring upgraded combination compression/oil scraper 2nd ring. Standard bore size ONLY
for the early motors, 1.5mm top ring, 1970-1973. Sold PER PISTON, order 2 sets
*******************************************

Polished Stainless Steel Intake Valves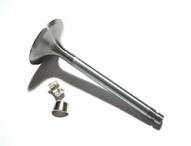 Polished stainless steel intake valve with collets.
Fits all 650s. Sold each

Polished Stainless Steel Exhaust Valves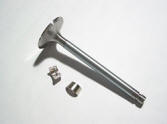 Polished stainless steel exhaust valve with collets.
Fits all 650s. Sold each
Valve Stem Seals
Sold singly. Fits 70 thru 84 engines
#KKNL14-6058 ..... $4.00 each
*******************************************

Tsubaki cam chain, endless, better than OEM quality, fits '74 up, Merc's choice
#JTKR25-9723 ..... $64.95
Cam chain master link, must be purchased with the above chain
(NOTE: It ONLY fits this chain),
#JTKR25-9921..... $3.95
Tsubaki "Peanut" cam chain, endless, better than OEM quality, fits '74 up, 5% lighter. Rivet master link included.
#JTKR25-9834..... $39.00
"Peanut" Cam chain master link
(NOTE: It ONLY fits this chain),
#JTKR25-9922..... $3.00
Tsubaki cam chain, better than OE quality, fits '70-73. Master link included.
#JMXS52-5003..... $47.95
Spare Cam chain master link for '70 - 73
(NOTE: It ONLY fits this chain)
#JMXS01-8801 ..... $4.95
Front Cam Chain Guide

Front Cam Chain Guide, fits all years.
******************************************
Copper Head Stud Sealing Washers
Replace the stock sandwich washers with these copper to stop head and base gasket leaks,
especially on built motors. 4 required.
*****************************************
CLUTCH
Clutch detail with spacer dimensions

EBC Clutch Plate Kit
Friction discs only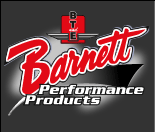 Barnett Premium Clutch Plates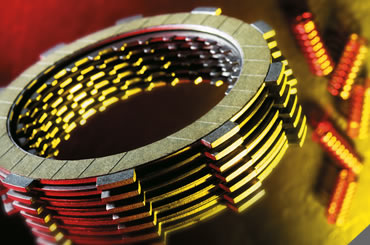 Barnett Kevlar clutch plates, .120" thickness
For 1974 - 1979, order 7 discs. For 1980 - 1984, order 6 discs.
Maximum bite. Not recommended for street use---unless you really need them.
#JBAR16-3210..... $19.95 each

Heavy Duty Clutch Springs
Fits all XS
Set of 6, 14% stronger than stock
Spring free length is about 1.67".
#JSUD61-4201 ..... $19.50 set

Heavier Duty Clutch Springs

Fits All XS
Set of 6, 27% stronger than stock
Spring free length is about 1.61".
#JMCS45-5202 ..... $18.95/ set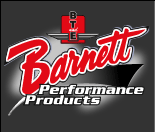 Heaviest Duty Clutch Springs
Fits all XS
Set of 6, 43% stronger than stock
Spring free length is about 1.50".
#JBAR41-6000 ..... $22.95/set
****************************************************
Clutch Rod Oil Seal
That pesky little clutch rod seal behind the drive side cover.
Kick start, shift shaft, countershaft, camshaft, crankshaft, starter seals in stock
Drain Plug Gaskets



Replacement Copper Drain Plug Gaskets.
Stop that pesky leak and keep your bike clean!
Fits all XS650's.
You get (2) copper gaskets.
********************************************
Three Bond Liquid Gasket



Three Bond Liquid Gasket 1194 is a semi-drying OEM approved liquid gasket formula
which forms an elastic, reliable gasket seal. It is resistant to damaging fluids, chemicals, heat,
pressure and impact. Three Bond 1104 is for metal-to-metal joints, such as the engine cases, or cylinder head cover. We use it as a substitute for "Yamabond #4" gasket sealer on our engines.
3.5 oz (100g) tube
Gasgacinch Gasket Sealer



The gasket sealer that holds gaskets in place during assembly of parts like
no other you have ever used! Comes in a 4 oz. can with a swab applicator
attached to the top. Quick drying and fast sealing formula.