---
Gaskets & Seals
---
GASKETS
Athena Engine Gasket Set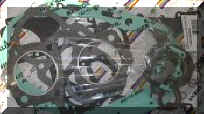 Complete Engine Overhaul Gasket Set.
European made, top quality gasket sets. Includes O-rings, gaskets, valve seals and exhaust gaskets too!
Fits the XS1, XS2, TX and all the XS650's from 70-84.This set includes a .060" head gasket. Stock is .043". Vesrah .043" sold below.
(Note: Set does not include oil seals, they are sold below)
#KDIX58-3622 ..... $64.95 each
Vesrah quality, .043" die-cut cylinder head gasket for '70-84
.#KCEN11-18100..... $27.50
Vesrah Engine Gasket Set
Complete Engine Overhaul Gasket Set.
Japanese made, top quality gasket set. Includes O-rings, gaskets, exhaust gaskets and stock .043" head gasket.
Fits all the XS650's from 74-84.This set has valve cap O-rings, not gaskets, and no valve guide seals.
(Note: Set does not include oil seals, they are sold below)
.#KSUD60-8028..... $63.00
Valve Guide Seal - 4 needed
#KKNL14-6058.... $4.00 each
Side Cover Gaskets




Quality, individual Rotor/Stator (left) or Clutch (right) side cover side cover gaskets.
R/S LH '70-71 #KCEN15-46100....$8.50
Black, R/S LH '72-84 #KCEN15-46101....$8.50
Black, Clu RH '70-84 #KCEN15-45100...$11.00
Quality, die-cut valve tappet cover gaskets.
Black, sold each
3 hole #KCEN18-0673... $3.50
4 hole #KCEN18-0672.... $3.50
Cylinder Base Gasket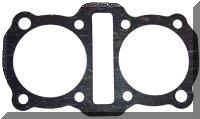 Quality, die-cut cylinder base gasket for all XS650's. A synthetic fiber blend reinforced composite w/ fully cured nitrile butadiene binder. World's best gasket material!

#KCEN11-35100..... $12.00

Cylinder Head Gasket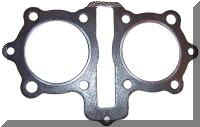 Vesrah quality, .043" die-cut cylinder head gasket for '70-84
.#KCEN11-18100..... $27.50
Superior cylinder head gasket for '70-71
#KCEN11-18105..... $18.00
Composite Big Bore Head Gaskets
650 Central ...043" ....KCEN11-18150... $60.00
"Shell-style". .060" .....KCEN11-18156... $44.00
XS Performance .060" KMXS18-0750... $45.25
Big Bore Head & Base Gasket Set

Composite head and base gaskets for our 750 Big Bore kits.
#KCEN11-8750..... $73.00
Now, set your piston-to-head height for maximum performance. Available in .026", .032", and ,042". 81.5mm bore
Our composite Big Bore gasket is .043" and the XS Performance composite is .060" (1.5mm)
Need something special? CALL ME Sold each.
.026" KCEN11-18226... $48.00
032" KCEN11-18232... $48.00
042" KCEN11-18242... $48.00
Sold each. Our standard Big Bore base gasket is .020"
.010" Copper #KCEN11-35110... $22.95
.020" Fiber #KCEN11-35120...... $13.95
.031" Fiber #KCEN11-35131....... $13.95
Copper Head Stud Sealing Washers
Replace the stock sandwich washers with these copper to stop head and base gasket leaks,
especially on built motors. 4 required.
#KCEN98-0144.... $2.95 each
SEALS AND O-RINGS
Engine Oil Seal Kit-10 pc.
Electric start to crank case seal, starter motor shaft seal,
kick start seal, shift shaft seal, clutch push rod seal, transmission countershaft
seal, cam shaft seals x2, Crank seal (alternator side) & tach drive seal.
#KMXS01-9010.... $46.90
Cam End Seal/pr
#KCEN93-90291..... $17.50/pr
Shift Shaft Seal
#KCEN93-10914.... $7.50
Kick Start Oil Seal
#KCEN93-10225.... $8.50
Clutch Push Rod Oil Seal
#KMXS01-9019.... $5.95
Counter Shaft Seal
#KMXS01-9021.... $11.95
Top End O-Ring Sets



Top end O-Ring sets for the XS650 by Athena.
These premium quality O-Rings are made of specially compounded rubber.
The set contains the following: Cylinder base R-Rings,
Cam seal housing O-Rings, Rocker shaft cover O-Rings and
Cylinder head stud O-Rings. An entire rebuild can be ruined due to a
faulty old O-Ring, so replace all those seals with this set to ensure leak free operation.
#KMXS18-0855....$16.75
Three Bond Liquid Gasket





Three Bond Liquid Gasket 1194 is a semi-drying OEM approved liquid gasket formula
which forms an elastic, reliable gasket seal. It is resistant to damaging fluids, chemicals, heat,
pressure and impact. Three Bond 1194 is specifically for sealing metal-to-metal
surfaces. We use it as a substitute for "Yamabond #4" on our engines.
3.5 oz (100g) tube
#EVLE64-1415.... $11.95
Gasgacinch Gasket Sealer



The gasket sealer that holds gaskets in place during assembly of parts like
no other you have ever used! Comes in a 4oz can with a swab applicator
attached to the top. Quick drying and fast sealing formula.
#EDS17-3402 ..... $8.95