---
Electrical
---
Regulator/Rectifiers
Charging System Monitor Alternator Brushes Charging Rotors Charging Stators Horns Ignition Switches Turn Signals
Turn Signal Lenses Headlamps & Bulbs Stoplight Switches
Rotors and Stators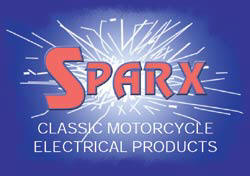 650 Central-SPARX Permanent Magnet Alternator w/ Solid State Regulator/Rectifier
<![if !vml]>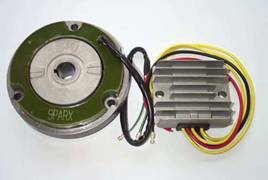 <![endif]> <![if !vml]>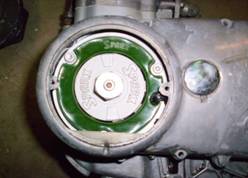 <![endif]>
At last, a viable permanent magnet alternator for ALL XSs, 1970-84, to replace the troublesome stock excited field units.
There are two units available, a single phase unit and three phase, both with solid state regulator/rectifier.
Single phase provides 160w of power at 3000 RPM and is recommended for off- road use with a capacitor in place of the battery.
Three phase provides 220w of power at 3000 RPM and is useful when extra accessories are installed. Three phase requires a battery in circuit to operate properly.
***Proven reliability, 1000's in service worldwide
***Reduces crankshaft rotating mass for faster acceleration and quicker turn-in
***Points can be run without a battery (Single phase only- capacitor needed-see below)
***Simplified wiring
***Eliminates troublesome brushes, with long life
***Easy installation and full instructions
***A noticeable performance increase in both acceleration and handling, unlike large external flywheels that add mass in the worst possible place.
"I am very impressed with the Sparx alternator and rectifier-regulator I ordered from 650 Central. It was easy to install, fewer wires to supply the voltage to the system than the original equipment, and a whopping 14.7 volts to the battery! The old alternator weighed twice what the Sparx weighs, and I also got rid of the original voltage regulator, diode, and safety relays, which also reduced weight. I also want to thank you for your FAST service. I had the package in 3 days from the date of my order. I highly recommend the Sparx system to anyone, as well as your fast service and tech knowledge."
Dan Fruth
The parts to adapt the SPARX system to the XS650 are

650 Central-SPARX units come with timing marks: TDC, 15º, & 40º
1980-84 XSs with TCI must use a Boyer or other aftermarket ignitions as there is no provision for the trigger mechanism.
Initial battery servicing is critical!
160watt, single phase #HJRC17-1310 ..... $450.00
220watt, three phase #HJRC17-1300 ...... $450.00
Recommended Connector to Reg/Rec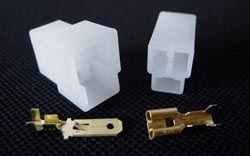 3 pin connector. #HMXS12-0633..... $4.95
Stock Charging System Rotors
Beware Chinese Junk!
"I think I found the answer to my engine miss with the directionals on. The info on this link is the probable answer."
http://www.xs650.com/forum/showthread.php?t=13898
"Pulled the rotor off and in my worst days as a machinist I could have done a better job. The machine work was poor at best. The taper hole for the crank shaft could have been done better with a file. It has what is referred to as a "M" finish. In other words you just hog it off to make room. One half of the rotor was larger than the other so it rubbed on the stator. Stator still is OK however. Moral of the story may be to stay away from Made in China". Rick
Rotor Puller for your XS650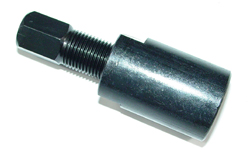 #TKKK26-0040..... $19.95
Alternator Brushes



OEM replacement type brushes.
Fits '70-79
#HMXS24-2650 ..... $18.00 /pair
Alternator Brushes



OEM replacement type brushes.
Fits '80-84
#HMXS24-2651 ..... $18.00 /pair
*************************************
LIGHTS & SWITCHES
Halogen Headlamps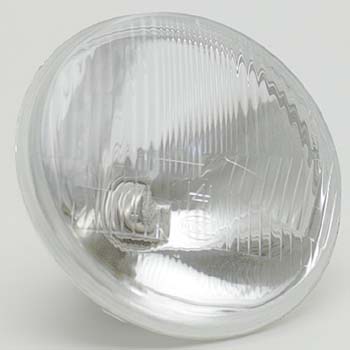 7" diameter, H4 halogen, 60/55 watt w/replaceable bulb. Fits ALL--'70-73 with "W" clip set.
#HDIX21-2410 ..... $34.00
"W" clip set
#HMXS10-1156..... $3.95
Replacement Halogen Headlamp Bulbs
For Halogen Headlamps.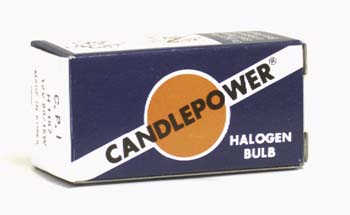 60/55 watt #HMCS12-5270 ..... $8.95
100/55 watt #HMCS12-5290..... $14.95
100/80 watt #HMCS15-1360 .... $17.95
Turn Signal Lenses



Amber, for TX & XS models, not for XS1 or XS2.
#HMAR36-6300..... $4.00 ea.
****************************
Ignition Switch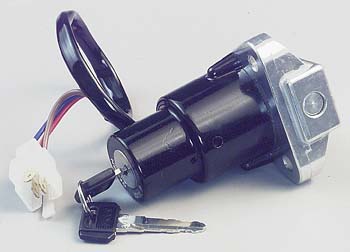 With fork lock and keys. Fits '78-84
#HKNL21-5209..... $33.00
Key blanks here: http://www.mysecuritypro.com/
Neutral Light Switch
Fits all 650s, '70-84
#HCEN13-6825..... $18.00
Rear Brake Light Switch

Fits all 650s, '70-84
#HMCS56-3272..... $8.95
Front Brake Light Switch



Fits '77-84.
#HMXS12-0044..... $7.25
Brake Switch Banjo Bolts
10mm x 1.25
#HMCS51-0128...... $22.95
Horn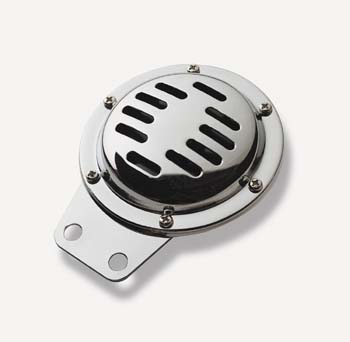 12 volt, 3 1/4" diameter, chrome plated.
#HMAR19-8920 ..... $ 13.95