---
Race Tales
---
"Road Racing makes heroin addiction seem like a vague wish for something salty" - Peter Egan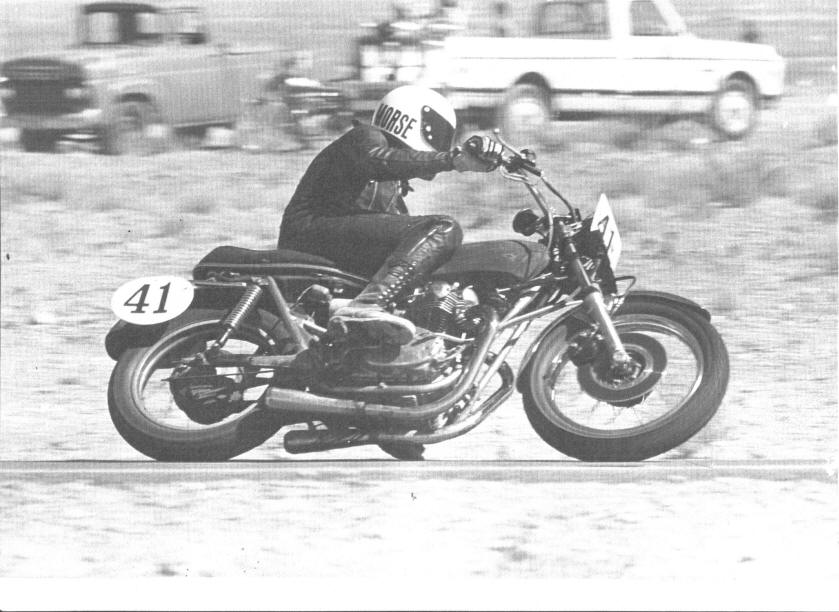 My Best Day
I think the best day I ever had at the track was in 1975, at one of Pat Manning's Ontario meets. Riding the XS-1, I entered the "Cafe" class. Run what you brung with a tail light. You could tell I had been working at Triumph. The bike had Triumph bars, BSA Triple oil cooler, Girling shocks, Smiths tach and Dunlop K81s. I was gridded mid-pack in a field of sixty-three, starting in the infield, at the entrance to the front straight. When the one-minute sign went up, I killed the motor. I frantically raised my hand, but either the starter didn't see it, or wasn't going to hold the other sixty two riders. I pushed off and was bump started after the field had left. I remember looking up to see the Specialist 2 RD just bending it into Turn One. Shit, what's that ½ mile, maybe ¾? No sooner had I crossed the start-finish line, I ran out of gas. Petcocks on, gas it.
By the end of the front straight, it became apparent I had guessed horribly wrong on the jetting. Too lean, shooting ducks. Now I was pissed. With my head down, the bit between my teeth, I began to rip through the sixty-two riders in front of me. They went by in gaggles, sometimes three and four in a single turn. Slowing my progress was my lack of speed on the front straight, giving back five to seven places. On lap two, coming onto the back straight, I was closing on Cary Andrews, on his CR750 replica. I could do no wrong, and decided I would pass him and the two he was dicing with, in spite of being some twenty to thirty bike lengths behind. When they shut off and set up for the kink going into the horseshoe turn, I didn't. Blew by them, on the gas! Braking hard in a straight line, got whoa'd down in time to pitch it sideways in the marbles, flat-tracked around the outside of the turn, while they passed me back, got the big drive out of the turn, re-passing all three on exit. It was after that pass, that Cary asked me to ride for him. A lap later, I was in second, having made over seventy passes for position in 2½ laps, running down the Spec 2 RD.
What had been a nice, controllable continuous 4th gear broadslide, through the three connecting lefts, twelve, thirteen, and fourteen, was now a full lock monster! My foot slipped off the peg, I looked down to see the bike covered with oil. A fractured oil line ended my ride. However, I had tasted "The Zone" and the sickness was complete.
I had made over 70 passes for position on arguably the world's worst-handling motorcycle, while shooting ducks.
I keep looking to return to that ethereal place, in essence, to have an out-of-body experience while racing, as I was unconscious on the track. Positively the best. "Mercury" Morse was born.
XS Handling
It occurred to me that the large majority of listers are not racers and have a different perspective. "Handling" means something different to me, with 35 years of racing, than to strictly street riders. Racing is one of those life experiences, like parenthood or going to war, that cannot be fully grasped without having "been there, done that". Let me try to convey what handling means to me, from a different point of view.
Turn Nine at Willow Springs is one of the most daunting turns in American road racing, and the key to a fast lap. You enter in the middle of the track, tucked in, hanging your right knee out, and pressuring the right peg to initiate the turn, in excess of 125 mph (you hope!). Assuming the full lean angle, with rearsets and tucked in pipes, you go halfway into the turn, still tucked, searching for your shut off point in the featureless desert. You will not be using any brakes. You know apexing too early will be a 100 mph highside, and too late means a lousy exit and no speed up the uphill front straight. You find what you hope is your shut off point, sit up, snap the throttle shut. The front end unloads and starts to drift out toward the marbles, sloughing off speed, as you try to feel the contact patch clawing for traction through the clip-ons. Ideally, the front tire will start to bite at the edge of the marbles that just coincides with your turn-in point. Just before this point, fully laid over with the front end drifting, you need to bang a downshift, to carry 7500 rpm in 4th thru the apex. Oh, and did I mention you could be weaving in and out of a foursome of back markers going 30 mph slower than you are, with Craig Weeks on your ass, who you know has motor on you, ready to blow by on the last lap?
The wheat is quickly separated from the chaff.
Given this exercise in " handling", would you rather try it on a stock '73 TX 650 or a stock '73 Norton Commando? O.K. give the TX a set of tires, shocks, swing arm bushings and steering bearings. Having won National road races on both an XS and a Norton, albeit 35 years apart, I'd opt for the Norton. Now the XS I ride is as far from stock as can be, given a stock frame, forks, hubs, and swing arm, all modified. But it does not yet have the balance needed to truly execute "The Exercise". I still have a 70 lb. rear weight bias (laden), and this won't work the front tire hard enough to get to an optimum, grippy temperature, even with 25 lbs air pressure. The rear tire temps, however, continue to climb, in spite of 41 psi. The 2" + swing arm should make it come right in, and allow me to use the 44 lb. straight-wound front springs, and get rid of the Progressive 35/50s. As rigid as the chassis is now, and with balance, I think I'll be ready to "Banzai!" Turn 9 more consistently and comfortably.
I tend to think of handling stability in terms of how the bike reacts to that 5th gear downshift.