Lubricants
Cable Lube Chain Lube
See our line of replacement Oil Filters in the "Engine" section!

ENGINE OIL
I am not selling oil here, but I do have a recommendation. I use 15-40 diesel oil in my bikes. Here's why: It has the high-load package, that Detroit had removed from the SH - SM-rated oils, for fear of long long-term catalytic convertor damage. This is important for lubricating the transmission and air-cooled camshafts. It is Allison C4-rated, suitable for wet clutches, instead of having the friction modifiers Detroit insisted on to up the corporate gas mileage numbers. This is important to our XSs, since the poor exhaust ports and flywheels in the oil raise the oil temperatures. Many XS1s lost engines due to unnoticed slipping clutches that heated the oil and broke it down, causing engine failures.
Cable Lubrication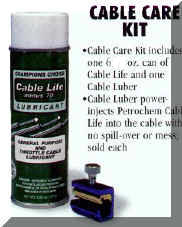 "You don't know what you've got till it's gone"
If you've ever had a cable break on the road, you know that it's true!
Here's the hot set-up for extending cable life and increasing ease of operation.
Each kit includes one 11 oz. can of Cable Lubricant and
one clamp on style Cable Lubricator.

#EPET-014 ..... $19.95/kit
Cable Lube


Cleans ands lubricates in one application
Smoothes operation and extends cable life
Easy to use formula
11oz aerosol can
#EMAR13-0112..... $11.50/can



PJ1 Black Label Chain Lube
Forms a clear tough rust-resistant coating on all types of chain and sprockets.
Super tacky formula, suitable for O-ring chains. Resists wash-out and contains
NO ozone-depleting chemicals.
13oz aerosol can
#EMAR13-0120..... $13.95/can

Maxima Chain Wax
America's #1 chain lube for all chain and sprockets.
Penetrates deeply and turns to a soft, pliable was lube. Resists wash-out
Ideal for O-ring chains.
13.5oz aerosol can
#EMAR13-0120..... $11.95/can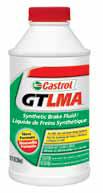 Castrol GT LMA Brake Fluid
This premium synthetic brake fluid exceeds DOT 3 and DOT 4 specifications. Low Moisture Activity (LMA) provides maximum protection against vapor lock brake failure.
This newly-formulated fluid is particularly recommended for Lockheed and Girling applications. Minimum wet boiling point, 329ºF. 12 Fl. oz.
Castrol GT LMA brake fluid.... #EVLE57-8150..... $4.95