Flat Tracker!
Here's a vintage class racer assembled here
at 650 Central!
This beast is 752cc of WISECO induced 1972 XS650,
ported, polished and massaged by 650 Central into a
Big Bang XS at the heart of the machine.
It features Mikuni 36mm round slide VM carbs, a
chrome moly frame, boxed chrome moly swing arm, Showa forks,
Works Performance shocks, Akront and Excel rims fitted with Goodyear tires,
Barnes hubs, stainless spokes and a rear knock off, custom fiberglass
with the Kenny Roberts tribute paint by The Stickle Brothers, custom Jemco
exhaust (1 of 2 made!), right side shift and a hydraulic rear disc
brake as a few of the trick features of this machine.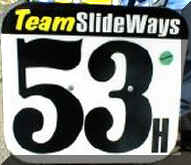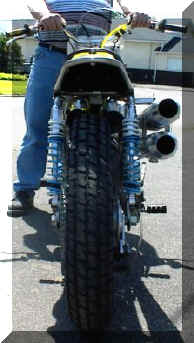 Here's the view that will be seen by most competitors!
If you ain't the lead dog, the scenery never changes!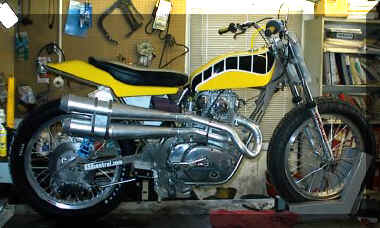 Note the custom Vise Grip shifter installed for these pictures!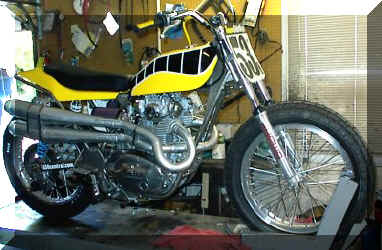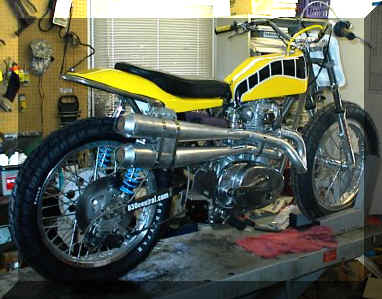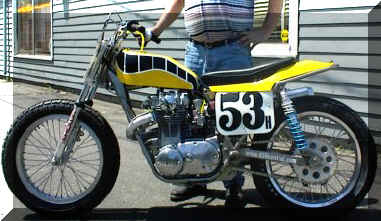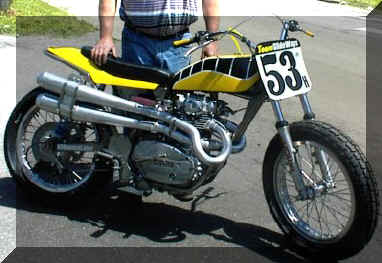 Heat shield and number plate are absent in this picture.